Francis Xavier Kroot (1854-1900)

Msgr. Francis Xavier Kroot, a Mill Hill Missionary and the Founder of the Fatima Sisters. He was outstanding in priestly piety, and robust pastoral and missionary zeal. Born on 7 Dec. 1854 at Zwolle, Holland, young Francis, felt a call to the missionary life and joined the Mill Hill Missionary Society, London, wherein his older brother Anthony Kroot was already studying. He was ordained on 9 June 1878.

Landed in India at the age of 24, he served as a pastor with outstanding zeal at Madras, Poonamallee, Bellary, Kurnool and Nellore. Moved by the plight of the poor women and children, he founded an Indian congregation of Fatima Sisters. Later he served as Seminary Rector at Nellore and in 1897 he was made the Chaplain of Fort St. George, Madras, and the Editor of Catholic Watchman (currently, The New Leader). Due to his weak health, he was forced to go to Europe for treatment, accompanied by his brother, Fr Anthony Kroot. But on the way, he was admitted at the St. Mary of the Angels' Hospital, at Hyeres, France, where he died on 5 January 1900. In June 1988, his mortal remains were brought to Pune and interred at Fatima Sisters Generalate chapel, in 1988. May God soon grant him the honours of the altar.
Servant of God
Francis Xavier Kroot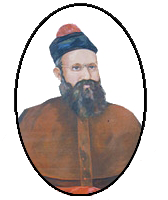 1854 - 1900
A Visionary
A missionary
Founder
of the Sisters of Our Lady of Fatima